Books are such powerful tools when it comes to communicating to our children about human rights issues -- specifically issues we don't ourselves have the experience from which to speak. I can TELL my kids what's right and wrong and urge them to HEAR me, but if/when I cannot speak from experience myself, I must turn to those who can.
And so, with much thanks to friends on Facebook who recommended the majority of the books listed in today's post, here is a selection of 12 books for all children about what it's like growing up trans, non-binary and/or non gender-conforming.
Written by Jessica Herthel, director of the Stonewall National Education Project and Jazz Jennings (who co-wrote the book at age 12 in 2014), I am Jazz tells the true story of a transgender girl who, from the age of two, identified female. This book not only explains to kids what it means to be transgender, it also empowers young readers to be true to themselves. (4+)
Written specifically for small children (ages 3+), Who Are You explores and celebrates gender diversity with direct language, introducing important discussion points. A go-to resource for parents and educators alike. (Written by Brook Pessin-Whedbee, illustrated by Naomi Bardoff.)
"Thomas" is Errol's Teddy Bear who doesn't identify as being a "boy teddy," but as a "girl teddy" named Tilly! Errol doesn't mind. He just wants his Teddy to be happy. And now that she can be her true self? She absolutely is.
Written by Jess Walton who was inspired to write "Introducing Teddy" after her father transitioned into the woman she had always identified with, this book provides an empathetic introduction to gender identity and what it means to transition. (3+)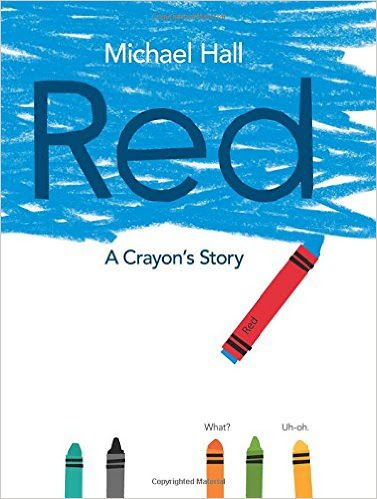 Red has a RED label on his crayon body but inside he is BLUE and even when he tries to be red, he cannot. It's impossible. Red, a crayon's story is about finding the courage to STAY TRUE TO YOUR INNER SELF no matter how hard the outside world tries to convince you to conform to their standards -- a WONDERFUL book that is as much about gender identity as it is IDENTITY identity. Gorgeous. Written and illustrated by: Michael Hall (3+)
George is a girl. But the rest of her class doesn't know that. It takes a theatrical production of Charlotte's Web for George to show the world who she truly is. Written by genderqueer author,
Alex Gino
, George is a must-read for all middle-school aged children.
You can read my post in its entirety, here. And if you have a few bucks to spare this week, please consider donating to Trans Lifeline, a
non-profit dedicated to the well being of transgender people. For more information, go here.