Last time I wrote about our bedtime routine, it was specifically about nobody ever sleeping. It's true we are not as strict as we could be when it comes to a clockwork bedtime situation, much to the chagrin of critics, but having four kids, after school activities, homework and unpredictable work schedules, we do what we do. We do what we do. Here is what a typical night in the life looks like on a school day/evening. (This week, anyway.)
5:00 - I've just arrived at Bo and Revi's school for pick-up. Archer and Fable are with me because Hal went to the gym after work. (Hal leaves for work at 6:00am and is out around 3:30-4.) I check the cubbies for papers and grab a baggie where a pair of wet underwear have been balled up with the words "pee pee" sharpied on a note therein. Revi is wearing a hodge podge of changes of clothes, her shirt being one that is too small. It's adorable.

5:15 - Bo refuses to sit in her seat in the car even though everyone else has been all buckled up and ready for six minutes. I give up trying to reason with her and take a seat, turn on the car and pump the jams on the stereo. As soon as I am giving her zero attention, Bo tells me "I'm ready to sit down now!!" I climb into the back seat and buckle her in.
5:30 - We arrive home to screaming because a doll was dropped that I couldn't reach while I was driving.

"If I try to get that doll, we might crash and die," I explain.

Bo tells me she doesn't care about that noise so long as she has her doll.

I explain to her that she does care actually, nice try.

"I would like to arrive home in one piece," I say. "Therefor please feel free to scream all you want if that's what suits you but I cannot reach the doll. Sorry, sister.

Bo screams all she wants as I turn up the radio.

When we arrive home, I turn off my car, retrieve the doll, hand her over and unbuckle the twins from there seats. Meanwhile Archer and Fable are climbing over my body because they both need to be the first ones out of the car.
5:45
- Hal arrives home with sixteen packs of berries which will be gone in 24 hours. (We do one big grocery shop + farmer's market run a week and, like, 16 small shops because THERE ARE MANY MOUTHS, HERE.) Berries will be served with dinner along with other things. Stay tuned.
ED: I did a big clean-out-the-closet clothes exchange at
Bluebird, our local kids consignment store,
today and found THE MOST REVI DRESS OF ALL TIME. I present it to her (even though it's ten sizes too big) and she promptly puts it on. "THIS DRESS HAS A PURSE ON IT!" she cries.
"That it does, little lady," I say, "That it well does."
6:30 - Dinner. I've been making chicken for the kids (and Hal) once a week which probably doesn't sound like a big deal except it is a big deal because I had never touched raw meat in my life until a few months ago and although I do not eat it, Hal and the kids LOVE when I make it, which is always early in the week because I buy the breasts at the Farmers Market on Sundays. (I cook the chicken with much olive oil, scallions and A LOT of onion. Oh! And white wine. I am told it's delicious.) Tonight's sides include Brocolini, mixed berries and sourdough toast.

7:00 - First bath/Shower

Fable wants to bathe separately from her sisters these days. Not all the time, but on this particular night, so we do two separate baths, starting with the twins who have fifteen minutes to get clean, play "mermaid" or "tea party" or "mermaid tea party" and then we do a "ready? switch!"
ED: The kids bathe every other night and wash their hair once a week.
I still religiously use the Ladibugs lice prevention shampoo during bath time
and so far this year (knock wood) we have escaped the various school lice outbreaks unscathed. Phew.
Bath toys are a big deal in our house. So are bath crayons. Although we only bring them out once a week otherwise we'd go through them way too fast and then we'd just be shopping for bath crayons, you know... as our job. (Bath crayons and berries.)
7:30 - Second bath
Fable and I started a game called "Charming or Annoying" that has become our thing. Nobody else gets it but we are ALL ABOUT IT. I have no idea where it came from but this is how it works.
"Blog posts. Charming or annoying?" Charming. OF COURSE.
"Lice! Charming or annoying?" ANNOYING. (That one's too easy.)

"Being a girl, charming or annoying?" (This is when the conversations get good. The answer, of course, is "both" and we go down the line talking about all the things that rule and/or suck about being a female person in 2015. Periods for example are not what either of us would call charming.)

ED: The game has brought MANY issues into our conversations. It's also good fun.

"Farts! Charming or annoying?" CHARMING! Duh, Mom.
Uh oh. It's now...

7:45 and the bath water is cold and Bo and Revi are running around the house naked as Hal does dishes and Archer has been in bed reading for 30 minutes. Thank you, Archer.
8:00 - Pajama time. The girls usually sleep in clothes because that is what they're into. Bo and Revi want to sleep in underwear so we fight, nearly every night, about wearing diapers UNDER their underwear to bed because, well, diapers are still needed when they're sleeping. (They also still ask for diapers to poop in. Bo has developed a thing for gas station bathrooms and, I'm not even kidding, they are the only places she will poop.)
8:15
-- The girls pick two books each to read. Meanwhile, Hal reads to Fable and Archer reads to himself. Hal and I go back and forth between the two rooms until we turn the lights out at 8:30. I cuddle with Bo, then cuddle with Revi, then cuddle with Bo again, sing "Somewhere Over the Airport" which is a song that Bo made up (sung in the key of Somewhere over the Rainbow) and Moon River, of course. Also, "Let it Go" which I have changed the lyrics to. "Time to sleep. Time to sleep. Close your eyes and think of sheep. Time to sleep. Time to sleep. Close your eyes and say no peeeeeps... " I then press the light on Bo's sound/light machine and Revi's owl night-light, kiss Revi one last time. (We do one kiss and one hug before I leave the room.)
8:30ish
-- Bo appears in Fable and Archer's room and asks if I can get her a glass of water.
8:35ish
-- Bo gets her sippy cup, brings it into bed with her, I kiss her goodnight.
Archer, Fable and Revi are alseep within moments of hitting their pillows. They are the fastest sleepers of anyone I have ever known. Bo, on the other hand, is a nightly project. Every night is a battle and
I have run the gamut of techniques
to get her to stay in her bed. The light machine actually has been hugely helpful because she can only have it if she's in her bed. AND she can stay up as late as she wants to so long as she
stays
in said bed. Another thing that works? Turning off all lights in the house and retreating into the bathroom for twenty minutes. That way, there is no place more exciting to explore. Bo does not want to miss a thing is the problem. She wants to party all. night. long. She wants to be where the action is. SO! As long as we take the action away, she's like, "huh. Okay. Well? There is nothing better to do than get into bed, I guess."
She will be the last one standing at the party, of that I can guarantee.
9:00
- I emerge from the bathroom. Everyone is alseep. I whisper to Hal that it's safe to come down from Archer's top bunk.
9-11:00
- Hal and I complain about having to pack four lunches, again, now that all the kids are back in school.
11:30
- We stop complaining and pack the lunches. (JK. We're still complaining.)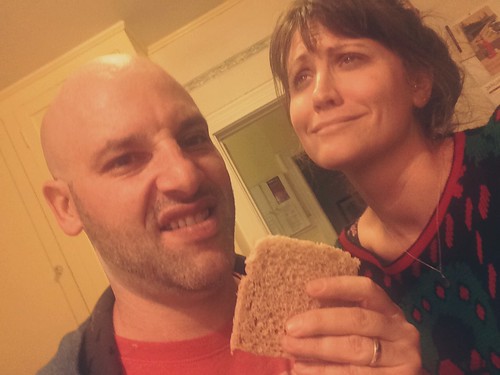 12:00
- Books and bed and talking about how cute the kids were tonight, because parenthood is all about selective amnesia, amirite? We fall asleep mid sente---
zzzzzzzzz.

***


Tomorrow I'll be taking over
Munchkin's Instagram account
for some day-in-the-life action. If you're interested, you can follow me
there
. I'll be hosting a giveaway over on Munchkin's IG with the following items to be given away to one winner:
***
Much love and thanks again to Munchkin for sponsoring this post...
...You can find + shop Munchkin products at Munchkin.com, Target, Babies'R'Us, and Amazon.
GGC